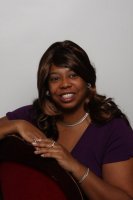 "Live life to the fullest, but don't live it reckless."
Pastor Darlene Pettis-Managan has made this her motto for her life. Born into the Catholic faith, Pastor Darlene found Christ early in life. However, because of the trials, tribulations that came with it, she admits to walking away from a God who she felt turned His back on her. Realizing that for most of her life she had been searching for something to fill an emptiness, a void within. It was after going through hardships and difficulties later in life that she chose to return back to God. Learning how to give God glory regardless of what is going on, she has now dedicated her life to Christ and the will that He has for her.
When asked to describe Pastor Darlene such words are brought about: nurturing, passionate, dedicated, humble, faithful, generous, and driven. She has been able to take the tests, trials, pain, and experiences that she had throughout life and made them her testimonies. In 2005, she rededicated her life to Christ. However, it wasn't until 2010 when she almost lost her mother that she moved in the way the Lord had called her. It was then she began ministerial training under the leadership and guidance of her Spiritual Father, Bishop Aaron D McCall of First Missionary Baptist Church - Hayneville. She was licensed in 2011 as a minister, to serve God. In 2012, God called for her to move again. In obedience to God, she moved under the leadership and guidance of Bishop Martell and Pastor Veronica Watson of City of Restoration church. Continuing under their leadership, she was elevated to Elder in August 2013. A year later, she was elevated to Youth Pastor in August 2014. In 2015, God called her to return home to First Missionary Baptist-Hayneville, where she is currently in line for ordination.
Pastor Darlene has realized that it has been though grace, mercy, and unconditional love that has gotten her where she is now; and taking her where He desires to be. Where she is now, she will tell anyone, has been a long, hard, and sometimes painful journey. However, she is thankful for having a Father that never left her, nor forsake! Pastor Darlene knows that she is only a maid servant, a vessel for God to use. Willingly and faithful, she continues to walk this journey that the Lord has placed her on.
This journey Pastor Darlene is on, is shared by her loving husband, Chris, her two daughters (Jada and Christiana), a son, a daughter-in-law, and a grandson (Xavier and Camille, Adonis).